Sustainability Policies
---
We proudly announce that we are recognized as Travelife Partner for sustainability. A huge milestone in our sustainable tourism journey.

The Travelife Partner Award is a recognition of our commitment to social and environmental sustainability. We comply with more than 100 criteria related to sustainability management, office operations, working with suppliers, and customer communication.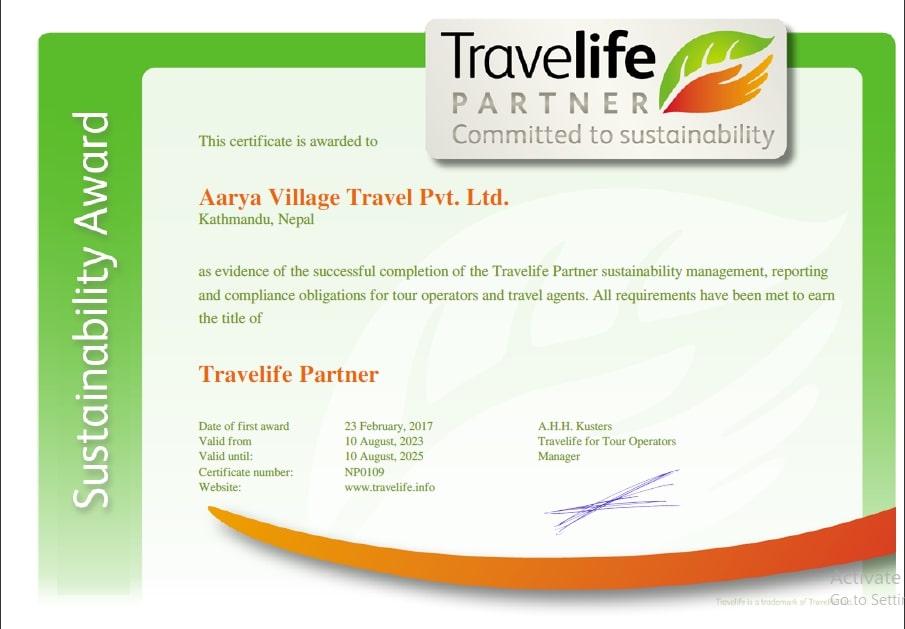 We are working towards further improvements aiming to eventually reach the Travelife Certified stage. Travelife is a three-stage certification program for tour operators and travel agents: (1) Travelife Engaged; (2) Travelife Partner and (3) Travelife Certified. We are at stage 2 – Travelife Partner. We are working to move forward to stage 3 - Travelife Certified.
For questions and remarks related to our sustainability policies, please contact:
Name: Prateek Gurung
Designation: Sustainability Co-ordinator
Email: info@aaryatravel.com
Our road to sustainablility is guided by following policies:
Other Documents
Aarya Village Travel - Sustainable Policy
Sustainable Accommodation policy
Water Reduction Policy
Waste Reduction Policy
Energy Reduction Policy
Staff Travel Policy
Sustainable Procurement policy
Sustainable Excursion policy
Sustainable Transportation policy
Responsible Traveler code of conduct
Annual Sustainable Report 2022-2023
Privacy Policy